Just a bunch of crap.
Yep, we said it! You've found our blog, our online journal, the place we go when we're full of something to say (and maybe full of other stuff as well!). Is it crap? Well, we like to think it's good advice, a dose of smart observation, and perhaps a tip or two. Enjoy!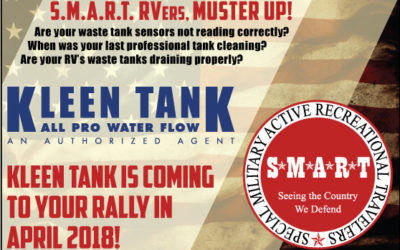 "Smart?," you say? Yep. That's S.M.A.R.T. as in "Special Military Active Recreational Travelers." We've been invited by the South Central S.M.A.R.T. Chapter to attend their upcoming muster (think: rally) at James E Ward Agri-Center in Lebanon, Tennesee this upcoming...
read more
Make a quick inquiry. We'll get right back to you.
Connect to us

P.O. Box 313, Sycamore, IL  60178

(815) 508-3878 info@KleenTank.com

Facebook.com/KleenTank

Pinterest.com/KleenTank


Our service....
Fixes and corrects your RV's tank sensors almost every time.
Features innovative, hydrojetting technology.
Is a 100% mobile service. We come to you at your site.
Is environmentally safe and makes no mess at your site.
Is chemical-free and all-natural.